Last month, Deque hosted a webinar The Future of Digitial Accessibility, which focused on technology trends for developers. We are pleased to offer part 2 of this webinar series, which focus on the business trends that will impact you and your organization. Hosted by Deque CEO and digital accessibility thought leader Preety Kumar, this webinar will teach you about how digital accessibility impacts your essential communication and information channels.
Is your business ready for the future?
Many companies develop digital accessibility plans in reaction to new legal requirements or litigation settlements. However, knowing where digital accessibility is headed can help your organization become proactive and implement accessibility solutions before they become an issue.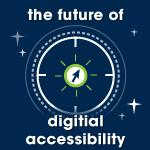 As companies continue to rely upon web and mobile solutions to communicate with their customers, digital accessibility becomes even more critical at reaching every member of your audience.
Discover how:
Businesses still overlook 33 million web users with disabilities...even while accessibility options have grown
Advanced web and mobile growth presents new challenges for businesses to reach and serve their customers
Join us on Wednesday, June 18, 2014 from 2-3 EDT for an informative and compelling session focused on the changing business environment.
About the presenter:
Preety Kumar is the CEO of Deque Systems and co-founded Deque in 1999 with the vision of unifying Web access, both from the user and the technology perspective. Under Preety's leadership, Deque has grown to be a market leader in the field of information accessibility, serving corporate and government clients with the highest standards in information technology. Preety is a sought-after speaker and serves on the boards of both the US Business Leader Network (USBLN) and International Association of Accessibility Professionals (IAAP).